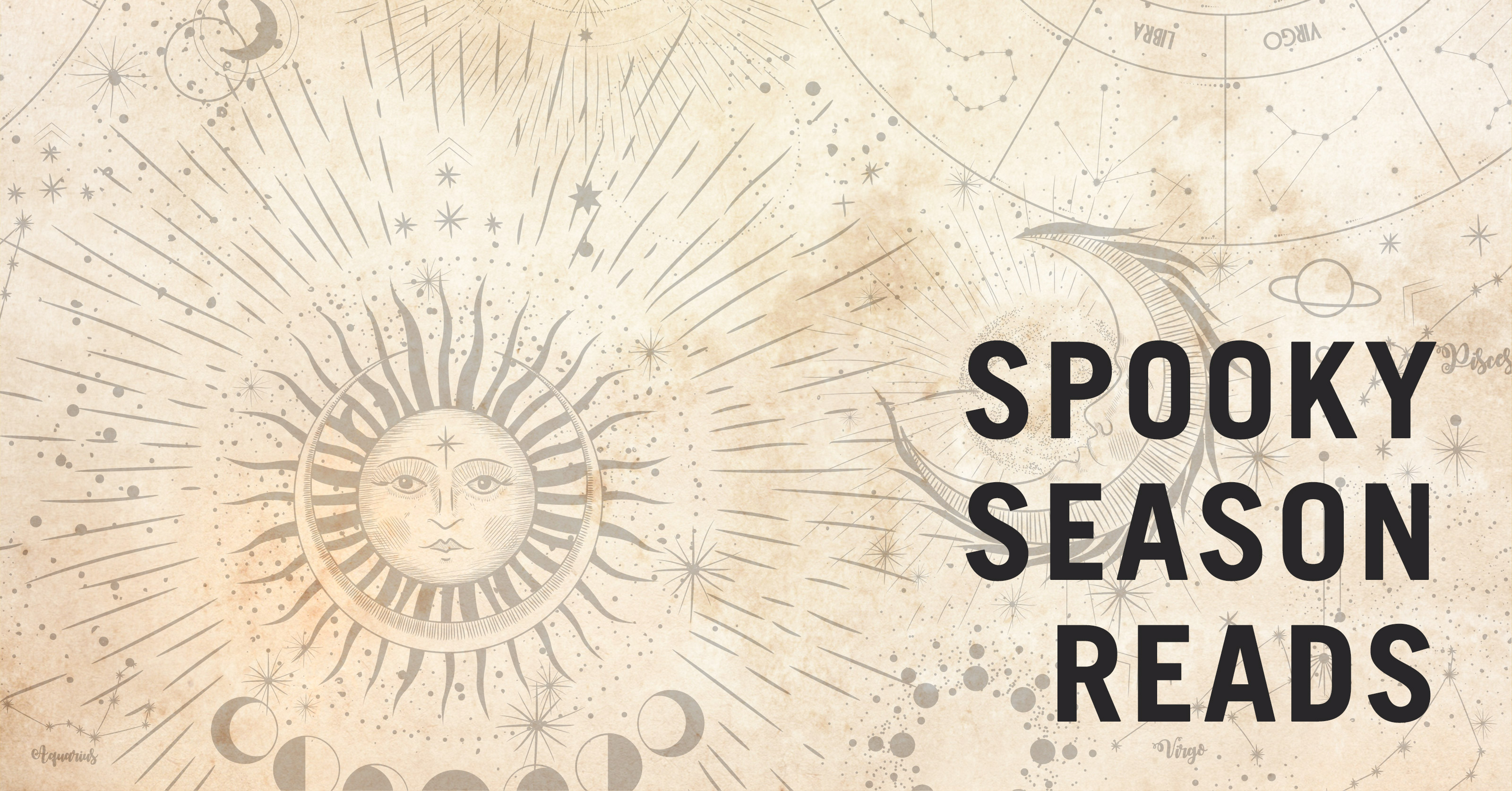 Ten Orbit books perfect for Spooky Season!
Get cosy, light some candles and feel the spooky season vibes with these ten brilliant books.
The Once and Future Witches
Alix E. Harrrow
In 1893, there's no such thing as witches. There used to be, in the wild, dark days before the burnings began, but now witching is nothing but tidy charms and nursery rhymes. If the modern woman wants any measure of power, she must find it at the ballot box.
There's no such thing as witches. But there will be.

A Master of Djinn
P. Djèlí Clark
Cairo, 1912: Though Fatma el-Sha'arawi is the youngest woman working for the Ministry of Alchemy, Enchantments and Supernatural Entities, she's certainly not a rookie, especially after preventing the destruction of the universe last summer.
So when someone murders a secret brotherhood dedicated to one of the most famous men in history, Al-Jahiz, Agent Fatma is called onto the case. Al-Jahiz transformed the world fifty years ago when he opened up the veil between the magical and mundane realms, before vanishing into the unknown. This murderer claims to be Al-Jahiz, returned to condemn the modern age for its social oppressions. His dangerous magical abilities instigate unrest in the streets of Cairo that threaten to spill over onto the global stage.
Alongside her Ministry colleagues and a familiar person from her past, Agent Fatma must unravel the mystery behind this imposter to restore peace to the city – or face the possibility he could be exactly who he seems . . .

Ghoster
Jason Arnopp
Kate Collins has been ghosted.
She was supposed to be moving in with her new boyfriend Scott, but all she finds after relocating to Brighton is an empty flat. Scott has vanished. His possessions have all disappeared.
Except for his mobile phone.
Kate knows she shouldn't hack into Scott's phone. She shouldn't look at his Tinder, his texts, his social media. But she can't quite help herself.
That's when the trouble starts. Strange, whispering phone calls from numbers she doesn't recognise. Scratch marks on the door that she can't explain.
And the growing feeling that she's being watched . . .
The Oversight
Charlie Fletcher
This dark Dickensian fantasy spins a tale of witch-hunters, magicians, mirror-walkers and the unlikeliest of heroes drawn from the depths of British folklore. Meet the Oversight, and remember: when they fall, so do we all.
Strange Practice
Vivian Shaw
Meet Greta Helsing, doctor to the undead.

After inheriting a highly specialised, and highly peculiar, medical practice, Dr Helsing spends her days treating London's undead for a host of ills: vocal strain in banshees, arthritis in barrow-wights and entropy in mummies. Although barely making ends meet, this is just the quiet, supernatural-adjacent life Greta's dreamed of since childhood.
But when a sect of murderous monks emerges, killing human undead and alike, Greta must use all her unusual skills to keep her supernatural clients – and the rest of London – safe.
Dead Lies Dreaming
Charles Stross
In a world where magic has gone mainstream, a policewoman and a group of petty criminals are pulled into a heist to find a forbidden book of spells that should never be opened.

Feed
Mira Grant
The year was 2014. We had cured cancer. We had beaten the common cold. But in doing so we created something new, something terrible that no one could stop. The infection spread, virus blocks taking over bodies and minds with one, unstoppable command: FEED.
Now, twenty years after the Rising, bloggers Georgia and Shaun Mason are on the trail of the biggest story of their lives – the dark conspiracy behind the infected. The truth will get out, even if it kills them.
The Girl with all the Gifts
M. R. Carey
NOT EVERY GIFT IS A BLESSING
Every morning, Melanie waits in her cell to be collected for class. When they come for her, Sergeant Parks keeps his gun pointing at her while two of his people strap her into the wheelchair. She thinks they don't like her. She jokes that she won't bite. But they don't laugh.
Melanie is a very special girl.
A Secret History of Witches
Louisa Morgan
Discover a magical historical saga of mothers, daughters and the power of witchcraft – perfect for fans of A Discovery of Witches, Outlander and Nora Roberts. A Secret History of Witches is a moving historical saga that traces five generations of fiercely powerful mothers and daughters – witches whose magical inheritance is both a dangerous threat and an extraordinary gift.

The Last Days of Jack Sparks
Jason Arnopp
It was no secret that journalist Jack Sparks had been researching the occult for his new book. No stranger to controversy, he'd already triggered a furious Twitter storm by mocking an exorcism he witnessed.
Then there was that video: forty seconds of chilling footage that Jack repeatedly claimed was not of his making, yet was posted from his own YouTube account.
Nobody knew what happened to Jack in the days that followed – until now.