The Curated Shelf by Alix E. Harrow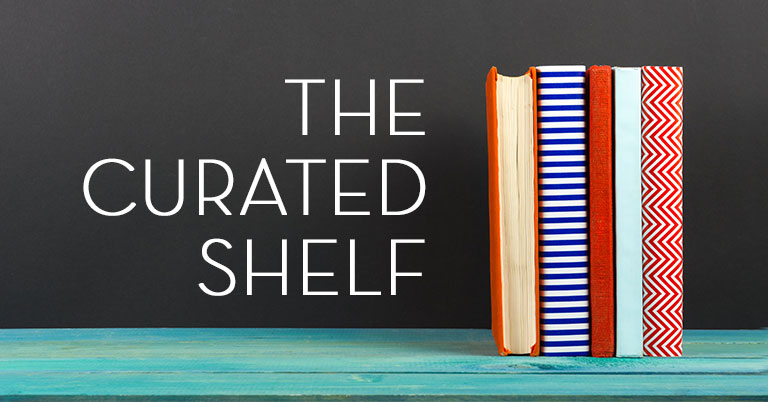 Discover Alix E. Harrow's perfect bookshelf.
A perfect bookshelf would have a book for every mood and occasion. Here are ten of my most-beloved books and the moments I find myself needing them:
Jonathan Strange and Mr. Norrel by Susanna Clarke:

This is the book I choose when I don't want to read a book so much as disappear into it. It's an entire world, a fictional historiography, a fairy-haunted, foot-noted work of genius. See also: The Unlikely Escape of Uriah Heap; Little, Big.

Memory by Lois McMaster Bujold:

I re-read the Vorkosigan Saga at least once a year, but I read Memory most often. I read it whenever I need to be reminded that people can come of age more than once, that we are constantly becoming ourselves, even at the ripe old age of, say, thirty. See also: The Curse of Chalion.

Beloved by Toni Morrison:

This one I read when I can stand to see the wicked world laid bare. When I'm brave enough to look directly at the scars we've left behind us, the poison in our past. I don't read it often. See also: Kindred; A Handmaid's Tale; Deerskin; The Fifth Season.

The Amazing Adventures of Kavalier and Clay by Michael Chabon:

When I want to see gentle humor standing beside heartbreak, history standing shoulder-to-shoulder with fantasy, costumed superheroes given love and gravity and meaning–I re-read this one. See also: The Brothers K; Little Fires Everywhere; We Are All Completely Beside Ourselves.

The Blue Sword by Robin McKinley:

Robin McKinley's books are grooved so deeply in my brain I sometimes use her turns of phrase without thinking and have to go back and invent my own. The Blue Sword–about a girl who crosses borders and has adventures and finds true love and also herself–is the one I read when I want to remember why I fell in love with books in the first place. See also: The Lioness Quartet, Harry Potter, The Night Circus.

Strange the Dreamer by Laini Taylor:

This is the one I read when I want to fall in love with the strange and unexpected and unique. When I need to remember that there are still untold stories under the sun. It's about blue-skinned gods and dreamy boys with witchlight in their eyes and the price of justice. See also: Abarat, City of Stairs.

Uprooted by Naomi Novik:

This is the one I read when I want a fairy tale I've never heard before, one that echoes against all my childhood stories about wicked woods and lost princesses and wizards in towers. See also: The Winternight trilogy; Spindle's End.

Red, White, and Royal Blue by Casey McQuiston:

This book is a blanket fort for my soul. It is therapy. It is a romance shipped in from another, brighter timeline. See also: Sunshine, This Is How You Lose the Time War.

Sing, Unburied, Sing by Jesmyn Ward:

When I want to lie down and the floor at weep at the sheer genius of prose–when I want to feel a twisted mix of fury and love and tenderness and think about the ghosts we all carry in our family trees–I read this one. See also: Homegoing, The Underground Railroad, A Spool of Blue Thread.

The Ocean at the End of the Lane by Neil Gaiman:

When I feel nostalgic and achy, like I have a hole in my heart that leads to other worlds–I read Gaiman. Especially this one, which is so much about the wonder and terror of childhood. See also: The Graveyard Book; Among Others.
How many have you read?
Alix's debut novel, The Ten Thousand Doors of January is out now – a glorious mix of escapism, friendship and magic.
***Shortlisted for the Hugo Award for Best Novel***

'A gorgeous, aching love letter to stories, storytellers and the doors they lead us through . . . absolutely enchanting' Christina Henry, bestselling author of Alice

EVERY STORY OPENS A DOOR

In a sprawling mansion filled with peculiar treasures, January Scaller is a curiosity herself. As the ward of the wealthy Mr. Locke, she feels little different from the artifacts that decorate the halls: carefully maintained, largely ignored and utterly out of place.

But her quiet existence is shattered when she stumbles across a strange book. A book that carries the scent of other worlds and tells a tale of secret doors, of love, adventure and danger. Each page reveals more impossible truths about the world, and January discovers a story increasingly entwined with her own.

'One of the most unique works of fiction I've ever read' Tamora Pierce, New York Times bestselling author

'A gorgeously written story of love and longing, of what it means to lose your place in the world and then have the courage to find it again' Kat Howard, author of An Unkindness of Magicians

'Devastatingly good, a sharp, delicate nested tale of worlds within worlds, stories within stories, and the realm-cracking power of words' Melissa Albert, author of The Hazel Wood

'The Ten Thousand Doors of January healed hurts I didn't even know I had. An unbearably beautiful story about growing up, and everything we fight to keep along the way' Amal El-Mohtar, Hugo Award-winning author